Van bureaustoel naar collegebank: tips voor een goede start
Over enkele weken gaat het nieuwe collegejaar van start. De universiteit is druk bezig met de voorbereidingen om jullie weer te kunnen ontvangen. In dit artikel een aantal tips zodat jij ook goed van start gaat!
Dit is het derde deel van de zomerserie Van Bureaustoel naar Collegebank:
Deel 1: Start nieuw collegejaar
Deel 2: Wat misten jullie? (En wat niet?)
Deel 4: Hoogtepunten en vooruitblik
Misschien heb je net je diploma van de middelbare school gehaald, begin je aan een master in Leiden of kom je een semester in Nederland studeren. Misschien ben je wel al aanstaand tweedejaars, derdejaars, maar heb je door alle omstandigheden nog niet de kans gehad Leiden op de ouderwetse manier te ontdekken. Volg daarom onze speciale route langs een aantal hotspots in Leiden. De route loopt van station Leiden Centraal naar het KOG. Pak 'm erbij als je snel even een koffietje wilt halen, wat lekkers wilt eten of rustig wilt bijkomen na een lange collegedag.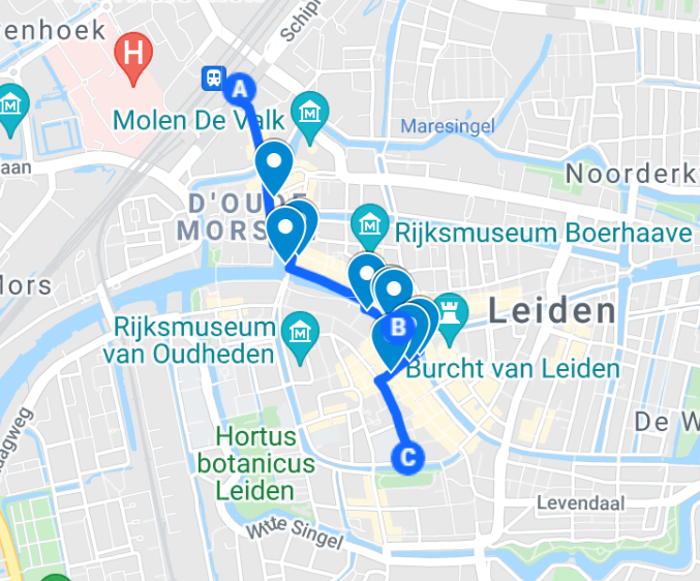 Tips van de experts
Natuurlijk kun je de komende weken nog gebruiken om Leiden beter te leren kennen. De zomervakantie geeft bovendien tijd om na te denken over aankomend studiejaar. Je kunt nieuwe doelen stellen, beslissen welke (extra) vakken je wilt volgen en ruimte inplannen voor nevenactiviteiten. Deze keuzes kunnen lastig zijn en de coronasituatie heeft het maken van dit soort keuzes niet bepaald makkelijker gemaakt. Daarom nog twee gouden tips voor het maken van je keuzes tijdens je studietijd:
"Volg je persoonlijke interesses. Kies zowel binnen je studie - je keuzevakken, een master - als daarbuiten – je vereniging, een bijbaan- niet op basis van strategische redenen, maar wat je leuk vindt. Als je dat doet en je passie weet te vinden, dan volgt de rest vanzelf."
Annemarie Drahmann, Universitair hoofddocent van de afdeling Staats-en bestuursrecht
"Netwerken is key. Besteed niet te veel tijd aan het halen van topcijfers en breng niet al je vrije tijd in de bibliotheek door. Uiteindelijk zijn de cijfers en de theorie die je uit je studie haalt niet het belangrijkst. Wat echt belangrijk is, is de kans te grijpen om interessante mensen van over de hele wereld te ontmoeten, goede vrienden te maken, mooie ideeën uit te wisselen en samen projecten op te starten die een verschil maken. Denk er maar eens over na - over 10 tot 20 jaar geef je deze wereld vorm. Daarbij is het fijn om goede vrienden te hebben."

Luuk Jordens, afgestudeerd in de master Ondernemingsrecht en nu werkzaam als advocaat bij Fieldfisher N. V.