Leiden University College Den Haag: 'Topopleiding' sinds 2013
Leiden University College The Hague heeft van de Keuzegids Universiteiten 2023 het kwaliteitszegel 'Topopleiding' toegekend gekregen. Het is de 10e keer op rij dat het Haagse Liberal Arts & Sciences programma met een focus op Global Challenges kwaliteitszegel heeft mogen ontvangen.
Het Leiden University College (LUC) staat op de tweede plaats van alle University Colleges in Nederland. Alleen University College Fryslân behaalde een net iets hogere score. LUC The Hague kwam in 2020 en 2021 als het beste university college van Nederland uit de bus.
Al meer dan 10 jaar een Topopleiding
Volgens de Keuzegids Universiteiten 2023 bieden de Nederlandse university colleges over het algemeen kwalitatief hoogstaande opleidingen met het Leiden University College die voor de tiende keer op rij het kwaliteitszegel 'Topopleiding' kreeg. LUC ontving het keurmerk voor het eerst in 2013 toen het college naar de campus aan het Anna van Buerenplein, naast Den Haag Centraal Station, verhuisde. Het geheim van de constant hoge scores van LUC en het bereiken van deze 10-jarige mijlpaal zit hem in het op intensive, kleinschalige format, de interdisciplinaire aanpak van de opleiding en het uitgebreide supportsysteem dat erop gericht is om het beste uit de studenten te halen. Voor Dean Giles Scott-Smith staat het keurmerk voor 'hernieuwde erkenning voor de opmerkelijke continuïteit van LUC over de afgelopen 10 jaar in het leveren van een opleiding op bachelor niveau van de hoogste kwaliteit.' Onderwijsdirecteur Paul Hudson, en al vanaf het begin als docent bij LUC betrokken: 'Al tien jaar zulke onderscheidingen toegekend krijgen, is erkenning van de kwaliteit van onze medewerkers als het gaat om het onderwijs en alles daaromheen. Dankzij hun creativiteit en toewijding is LUC in staat om deze hoge standaard vast te houden, wat medemogelijk wordt gemaakt door het werken met excellente en gemotiveerde studenten. Dit alles zorgt voor een stimulerende studieomgeving.'
'Al tien jaar zulke onderscheidingen toegekend krijgen, is erkenning van de kwaliteit van onze medewerkers als het gaat om het onderwijs en alles daaromheen. '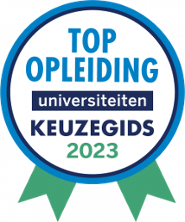 Total Score
Academische opleidingen met meer dan 75 punten krijgen het kwaliteitszegel toegekend door de Keuzegids. Met een totaalscore van 86 uit 100 mogelijke punten, scoorde het liberal arts & sciences programma uit Den Haag bijzonder hoog op de componententen 'curriculum' en 'docenten'. Bovengemiddelde scores werden toegekend aan de onderdelen 'examinering' en 'sfeer'.
Den Haag
Het internationale honours college van de Universiteit Leiden bevindt zich in Den Haag. De LUC community werkt nauw samen met de gemeente en lokale en internationale partners van de stad Den Haag op het gebied van onderwijs en onderzoek gericht op de huidige globale maatschappelijke uitdagingen. LUC Den Haag werd in 2010 opgericht met steun van de gemeente Den Haag en heeft ruim 600 bachelor studenten en meer dan 1500 alumni.
De 'Keuzegids Universiteiten' Universiteiten wordt jaarlijks gepubliceerd door het Centrum Hoger Onderwijs Informatie en is gebaseerd op de resultaten van de Nationale Studenten Enquête (NSE) in combinatie met advies van experts die betrokken zijn bij de accreditatie. Het NSE is een grootschalig landelijk onderzoek dat jaarlijks alle studenten in het hoger onderwijs uitnodigt om hun mening te geven over hun opleiding.