Alumna Gabriella Sancisi: 'In Leiden I learned what I think is important in life'
For seven years she worked at Noordeinde Palace, as the Private Secretary of Queen Máxima. Since the summer of 2021, Gabriella Sancisi (1973) has been the Dutch Ambassador in Slovakia, where the Embassy in Bratislava's historic city centre is now her base.
On the one hand, it's a big change, she acknowledges. 'You have to find your way around again, learn to master new subjects, get to know your colleagues, find out where the coffee is. On the other hand, the two roles have many similarities. There's a lot of multitasking involved here too, I meet many different people and the issues can sometimes be quite intense. This diversity is a common factor in both roles. In the morning you might have a meeting with a minister, in the afternoon a visit to a community centre or a discussion with a Dutch company. You have to be a real social all-rounder to reach an understanding with all these different people.'
And Sancisi identifies another similarity: the importance of serving the Netherlands. At the Embassy, the focus is now on political, economic, cultural and consular affairs. Her duties range from visiting and speaking with Dutch companies and initiating projects in the area of sustainability to facilitating an exchange between Slovakian and Dutch experts about reforms to the Slovakian legal system.
Perseverance
When Gabriella Sancisi came to Leiden in 1991 to study Italian and Law, she still didn't know what she wanted to do with these subjects. 'A good friend of mine at high school already knew that he wanted to be a diplomat, but back then I had no idea that this would become my own career.' She chose Italian because she loved languages and is bilingual herself, and studied Law at the same time because it seemed to be an interesting and wide-ranging subject. 'I enjoy combining different things and I like variety. Doing two studies at the same time taught me how to quickly switch my focus, something that's very useful in my career.' And perseverance: 'The study adviser in the Law School advised me against doing two degrees at the same time, saying it would be better to complete the first year in one subject and then think about what I wanted to do. In fact, that response gave me the push I needed: I was going to try doing both subjects and find out if it was too much for me. But it wasn't!'
'I like to jump in at the deep end, really immerse myself in understanding new things. I'd already had to do that as a child, because I lived abroad a couple of times due to my parents' work. I remember going to a school in New Jersey when I was nine. I didn't speak any English and when the teacher asked me to stand up, I didn't do it because I didn't understand what she said. When I realised what she meant, I immediately decided to learn the language quickly. My mother says that two weeks later I was speaking English.'
Notice board
Her choice of Leiden as the place to study was largely due to her parents. Her father worked at the university in Groningen and her mother in Utrecht. 'I wanted to go to university a long way from the family home in Groningen,' she says. 'To build my own world.'
She had a 'fantastic time' in her student years. She did rowing with the Njord club, was a member of a student association, had many social contacts and also devoted time to studying ('but often last-minute'), spent a few months in Bologna with an Erasmus scholarship and did an internship at a law firm. 'It was there that I discovered my heart was not in practising law.'
A note pinned on the notice board of the Italian department turned out to be decisive for her future life. 'The Ministry of Foreign Affairs was looking for an intern for the staff magazine. It seemed like an interesting position, because I'd already helped with my high school magazine and the Njord rowing club newsletter. That internship gave me a good impression of the Foreign Affairs organisation and the whole spectrum of the foreign service.
After completing her studies, Sancisi stayed on at the Ministry because the Communication Department needed extra people in consequence of the Dutch Presidency of the European Union. 'Then I knew: I really enjoy this work. I felt a true passion for Foreign Affairs.' She did the diplomatic training course and proceeded to fulfil various roles, including Consul for Cultural Affairs in New York, Private Secretary of the then State Secretary Frans Timmermans and Minister Uri Rosenthal, and Deputy Ambassador in Zagreb. 'The great thing about having Foreign Affairs as an employer is that you're placed in a new situation every time, discover new things, are allowed to run your own specific domain, and work in all kinds of different environments,' explains Sancisi, who describes herself as a practical person and a bridge-builder. 'I always look for connection. How can I engage people in an issue?' The public good is close to her heart, she says. This is one of the reasons she has worked several times in a minister's team. 'I enjoy working with other people as a member of a team, and it makes me stronger. I'm really not cut out for a solo role.'
Poem by Dante
Have her studies been useful to her? 'What I learned was not so much from specific courses. Although I was quite proud of being able to recite a passage from a poem by Dante at the Italian Embassy recently,' she laughs. 'What I learned in Leiden is much more the ability to quickly switch my focus from one topic to another, to absorb information easily without losing sight of the bigger picture, to persevere and be confident that a new adventure will succeed.' And another very essential point: 'At the University, I learned what I think is important in life.'
Does Sancisi have any advice for students today? 'Yes, do a degree that you're going to enjoy. If you only choose a subject with a career in mind, then a career can last a very long time. People often think, for example, that you can only go into Foreign Affairs if you've studied International Law, but really you can go there with any subject at all. There are even people there with a degree in Maths or Social Geography, or who studied at the Conservatoire!'
She doesn't come back to Leiden very often now. But she still feels a strong connection with the city and the University. She was reminded recently, for instance, when Kutsal Yesilkagit, Professor of Public Administration at Leiden, gave the Cleveringa Lecture for the Dutch community in Bratislava. And she often thinks back to all those wonderful times at the University. Such as both of her graduation ceremonies. 'That your graduation lecturer addresses you in that beautiful Academy Building, in the presence of your family and friends, I look back on that with pride. Yes, I really enjoyed my time in Leiden.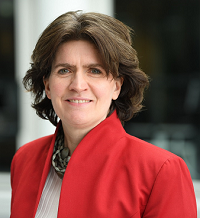 CV of Gabriella Sancisi
2021 - present
Ambassador in Bratislava, Slovakia

2014 - 2021
Private Secretary of H.M. Queen Máxima, Royal House Department

2011 - 2014
Deputy Chef de Poste, Embassy in Zagreb, Croatia

2010 - 2011
Private Secretary of the Minister of Foreign Affairs (Rosenthal)

2009 - 2010
Private Secretary of the State Secretary for European Affairs (Timmermans)

2007 - 2009
Senior Policy Officer with Western & Central Europe Department

2003 - 2007
Consul for Press & Cultural Affairs, CG New York

1996 - 2003
Ministry of Foreign Affairs, various roles in the Information Department and ICT Department

1991 - 1996/7
Italian Language & Literature and Dutch Law degrees at Leiden University