Put away those textbooks and relax: the Living Room is open
Leiden University opened the doors of its new Living Room on Thursday 16 February. The Living Room is a home from home where Dutch and international students can relax and meet others and is a strictly no-study zone.
Anna de Keijzer, a project coordinator at the Well-being Office, cut the ribbon and officially opened the Living Room. In her speech she explained how the Living Room is a place where students can meet up and take a breather. The students present agreed: 'The Living Room has a cosy, homely feel. It's good that there's no studying so it stays nice and relaxed.'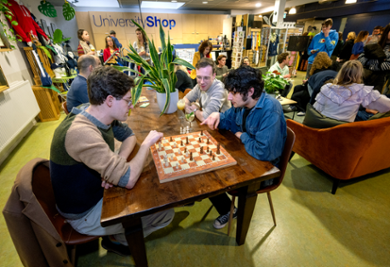 Hosts present
As of now a host will be present at the Well-being Desk from Monday to Friday between 12.00 and 17.00 hrs. These volunteers will organise activities in the Living Room, such as games afternoons and painting workshops. They will also promote the well-being of their fellow students, providing a listening ear for anyone in need of one and telling students all about the university's student well-being offering. Which is good, said the students present, 'because students have a better understanding of the world as students see it. They just do.'
Activities
'I like getting to know other students through the Living Room and talking to them or working together on fun activities,' said Aleydis, one of the hosts. 'I hope that more students will read about the Living Room and volunteer themselves or come and enjoy the fun here.' Aleydis heard about the Living Room through Uni-Life. Future events will also be announced on there – and on the Living Room noticeboard too. Curious? Pop in to Plexus and say hello to our Living Room hosts.
Text: Zaida Amorij
Photos: Marc de Haan