Als persoonlijk assistent voor de klas staan, hoe is dat?
'De leerlingen zijn enthousiast en missen je.' Dat mailde een leraar van het Haags Montessori Lyceum nadat derdejaars bachelorstudent Natuurkunde Resi Aarts een vrijdag geen bijles kon geven. Zij en Sem Grootscholten (master Public Administration) ondersteunen docenten in het voortgezet onderwijs. Dat doen ze bij netwerksscholen van de Universiteit Leiden en ze krijgen ervoor betaald.
'Scholen in het voortgezet onderwijs kunnen subsidies aanvragen die gebruikt kunnen worden voor het aanstellen van een persoonlijk assistent van de leraar, afgekort PAL', vertelt Hanny Gijman, projectmanager van PAL bij het ICLON. 'Het idee achter het PAL-programma is het ontlasten van leraren met een te hoge werkdruk en om studenten te laten kennismaken met het onderwijs.' Sinds corona is losgebarsten wordt het programma ook ingezet om leerlingen die achterstanden oplopen bij de les te houden.
Onderwijs leuk vinden
Resi en Sem zijn beiden onderwijsfanaten. Resi: 'Ik heb me aangemeld omdat ik al bijles geef sinds ik zelf op de middelbare school zat, en sinds twee jaar geef ik ook eindexamentraining. Ik vind dat allemaal superleuk.' Ook Sem is al behoorlijk doorgewinterd: 'Ik geef al ruim tien jaar bijles en dit leek me in het verlengde daarvan een uitdaging. Ook ik vind het gewoon erg leuk om te doen. Verder ben ik betrokken bij een politieke partij waar ik me bemoei met onderwijsbeleid. Het is nice om daar praktijkervaring bij te hebben. Ik vind onderwijs een van de belangrijkste aspecten van een samenleving.' Terwijl Resi op het Haags Montessori Lyceum werkt, is Sem gekoppeld aan het Dalton Den Haag.
Extra hulp
Resi is in principe elke vrijdagmiddag aanwezig op het Haags Montessori Lyceum om vragen over scheikunde te beantwoorden. Leerlingen van 4 havo tot en met 6 vwo zijn welkom om hun vragen aan haar voor te leggen. 'Verder heb ik de eindexamenleerlingen geholpen met het herkansen van hun schriftelijk examen door een eerder afgenomen examen met hen door te nemen. Het was erg leuk dat mailtje van die docent te krijgen waarin stond dat de leerlingen enthousiast waren en me hadden gemist.'

Het PAL-programma
Vo-scholen én studenten uit het hoger onderwijs kunnen zich aanmelden voor een regionaal PAL-programma. Bij de universiteit fungeert het ICLON als loket. Zeven studenten zijn inmiddels geplaatst. Het volgen van de lerarenopleiding of de educatieve minor zijn geen vereisten; de assistenten zijn dan ook nadrukkelijk géén vervangende leraren, ze helpen de leraar. Wel krijgen alle studenten voor ze beginnen een training bij het ICLON. Die betreft onder meer de verschillende rollen van de docent, het analyseren van non-verbaal docentgedrag (houding, intonatie, mimiek, aandacht, gebaren) en het geven van feedback. Daarna kunnen ze ook nog vakken bij het ICLON volgen. De PAL-studenten worden aangesteld bij de school waar zij ondersteunen en krijgen daarvoor een salaris van de school. Ook in andere regio's in het land bestaan PAL-initiatieven, zoals in Amsterdam en in Twente.
Sem ondersteunt twee vakken: 'Ik geef bijles natuurkunde aan eindexamenleerlingen van havo en vwo, en economie aan leerlingen van 4 en 5 havo, en 5 en 6 vwo. De leerlingen geven zelf aan dat ze extra hulp kunnen gebruiken. Ze krijgen die in de zogenoemde Daltonuren, dat is een soort zelfstudietijd. En als ik ruimte heb in mijn rooster van twee dagen kunnen ze me ook dan benaderen.'
Dicht bij de leerlingen
Resi geeft alleen fysiek onderwijs; dat ligt dan ook stil als er geen les op school wordt gegeven. Ze vindt de rol die ze heeft prettig. 'Ik sta nog vrij dicht bij de leefwereld van de leerlingen, dat is voor mij een deel van het plezier.' Sem doceert twee dagen per week zowel fysiek als online. In zijn lessen gebruikt hij opdrachten uit de schoolboeken. 'Zelf opgaven bedenken als je stof van zes klassen moet bijhouden, zit er niet echt in. Ik laat de leerlingen de opdrachten eerst zelf proberen, en grijp in en geef uitleg waar nodig. Zo leren ze volgens mij het beste.'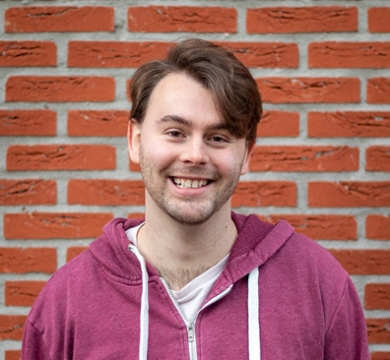 Leraar worden?
Een van de doelstellingen van het PAL-programma is studenten te interesseren voor een baan in het onderwijs. Gaat dat bij de twee studenten lukken? Resi: 'Nee, dat nou weer niet, ik zie mezelf eerder in het bedrijfsleven aan het werk gaan.' Sem sluit een onderwijscarrière niet uit maar nog niet meteen. 'Ik heb eerst de ambitie om de politiek in te gaan, bij een belangenbehartiger te werken of als ambtenaar aan de slag te gaan. Dat neemt niet weg dat ik me nog wel eens zie terugkeren in het onderwijs.'
Resi heeft haar compliment binnen maar ze had al gemerkt dat de leerlingen graag hulp van haar krijgen. Ook Sem voelt waardering. 'Ik haal er veel energie uit als ik de leerlingen vooruit zie gaan. En als een leerling door mijn hulp iets gaat snappen, geeft dat een fijn gevoel. Ook het contact met de docent economie – natuurkunde is er pas onlangs bijgekomen – is positief. Die ziet dat mijn inspanning effect heeft.'
Aanbeveling
Zowel Resi als Sem bevelen het werk aan bij andere studenten. Sem: 'Mits je van onderwijs houdt, natuurlijk.' En Resi: 'De leerlingen vinden het leuk dat je er bent en het is altijd gezellig met de leraren. Mooi toch?'
Tekst: Corine Hendriks
Foto's van leerlingen en de fietsenstalling: André van Haasteren
Wil je iets kwijt over dit artikel?