Diversiteitscongres 2021: kleine acties kunnen inclusiviteit nu al vergroten
'Een cultuurverandering vraagt veel tijd', zei vicerector Hester Bijl op de slotbijeenkomst van het universitaire diversiteitscongres op 26 januari. Ze sprak over de weg naar een diverse en inclusieve universiteit. Het congres bood wel veel concrete handvatten om nu al kleine stapjes te zetten.
Foto boven: de fysiek aanwezigen op de slotbijeenkomst in het restaurant van de Faculty Club op 26 januari (vlnr): diversiteitsofficer Aya Ezawa, vicerector Hester Bijl, extern congresvoorzitter Anouschka Laheij, W&N-decaan Michiel Kreutzer en aanstaand voorzitter Annetje Ottow.
Het lijkt erop dat de noodzaak voor de universiteit om meer divers en inclusief te worden tussen steeds meer oren terecht komt: meer dan zeshonderd collega's en studenten hadden zich aangemeld voor het congres Diversity, equity and inclusion in the sciences and beyond, op 22 en 26 januari. Dat was een verdubbeling ten opzichte van vorig jaar. Meer dan vijfhonderd mensen namen daadwerkelijk deel, zowel studenten en wetenschappers als bestuurders en collega's uit de ondersteunende eenheden. 'De noodzaak om stappen te zetten op het gebied van diversiteit en inclusie wordt steeds breder gevoeld', merkte Diversity Officer Aya Ezawa op. 'Het is fantastisch om te zien hoe de betrokkenheid groeit'.
Twee sporen
De twee sporen naar meer diversiteit en inclusiviteit zijn beleid en cultuurverandering. Dat zo stellen is ordenend, de praktijk is ingewikkelder. 'Het streven betreft alles en iedereen', zei Bijl. 'Alle medewerkers, alle studenten, de onderwijspraktijk, inclusief de curricula, de faciliteiten, sollicitatieprocedures, het opleidingsaanbod voor medewerkers, de werving, de omgangsvormen…' En wat is belangrijk voor een inclusieve leeromgeving? De essentie is simpelweg erbij horen. Kerstin Perez, Associate Professor of Physics aan het Massachusetts Institute of Technology gaf in haar presentatie een eenvoudig voorbeeld: 'Stel dat de docent in een college een grap maakt over een tv-programma dat iedereen gezien lijkt te hebben, en jij bent de enige die niet weet waar het over gaat en de grap niet begrijpt…' Als dergelijke dingen voortdurend gebeuren, krijg je het gevoel er niet bij te horen, was de boodschap.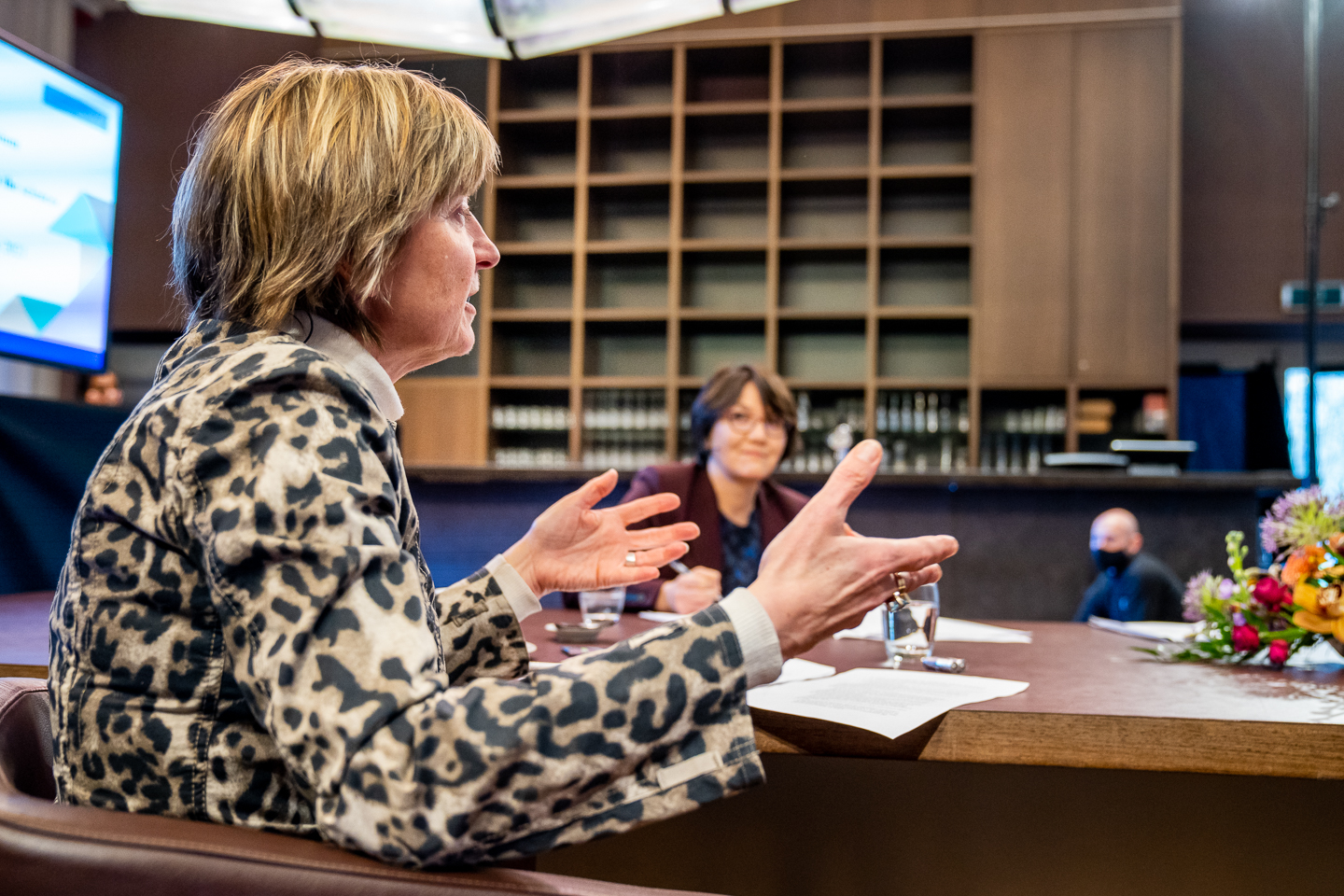 Bij de wisseling van de wacht, op 8 februari, krijgt Annetje Ottow (foto), de nieuwe voorzitter van het college van bestuur, diversiteit en inclusiviteit in haar portefeuille. Dat wil echter niet zeggen dat Hester Bijl, de nieuwe rector magnificus, zich dan ontslagen voelt van de verantwoordelijkheid, integendeel. 'Diversiteit en inclusiviteit moeten deel gaan uitmaken van ons DNA. Ik ga het onderwerp in zoveel mogelijk gesprekken aankaarten', zei ze. Ottow had ook in Utrecht, waar ze vicevoorzitter in het college van bestuur was, diversiteit en inclusiviteit in haar takenpakket. Diverse onderzoeken hebben inmiddels uitgewezen dat een diverse en inclusieve universiteit niet alleen goed is voor het individu maar zeker ook voor de universiteit als geheel.
Monitoren!
Voor beleid is monitoring belangrijk. Spreker Ijeoma Uchegbu is hoogleraar Pharmaceutical Nanoscience en tevens provoost voor race equality aan het University College London (UCL). Zij toonde cijfers, het resultaat van monitoring: 22% van de studenten in het Verenigd Koninkrijk (VK) zijn studenten van kleur, bij het UCL is dat 53%. Uchegbu liet ook zien dat 13% van de academische staf in het VK van kleur is (zwart, Aziatisch of van een andere etnische groep). Bij de hoogleraren is dat maar 8%, en slechts 0.2% van de hoogleraren zijn zwart en vrouw. Dit terwijl in het VK witte kinderen op 10/11-jarige leeftijd qua schoolprestaties juist onderaan bungelen. Onderweg gaat er dus iets mis. Uchegbu toonde ook aan dat science-studenten van kleur minder snel een promotiebeurs krijgen. Terwijl ze 18% van de populatie uitmaken, krijgt maar 9% een beurs. 'Wil je al deze ongelijkheid recht trekken, moet je er voortdurend bovenop zitten', benadrukte Uchegbu. Actief doorbreken is haar adagium.
'One size fits all' is niet effectief
Op de conferentie viel meer dan eens het woord 'pijplijn'. Meer medewerkers en studenten van kleur werven en vast zien te houden alleen volstaat niet: de ongelijkheid moet in alle fasen van het onderwijs en de carrière worden aangepakt. Een universiteit kan zich wel buigen over de eigen pijplijn waar treurigheid evenzeer troef is. Hoewel vrouwen langzaam oprukken in de wetenschap, blijven ook in Nederland aan de top voornamelijk witte mannen over. En dat terwijl meer dan de helft van de studenten meisjes zijn. Ook daar gaat dus onderweg iets niet goed. Studentenzaken biedt voornamelijk faciliteiten voor iedereen aan. Dat mag anders, zo viel op het congres te beluisteren: kijk niet naar gemiddelden maar erken dat er verschillende behoeftes bestaan een kom tegemoet aan die verschillen. Het was niet voor niets dat op het congres in het bijzonder plaats was ingeruimd voor vrouwelijke bètahoogleraren en decaan Michiel Kreutzer van de Faculteit Wiskunde en Natuurkunde (W&N): juist in de harde science zijn vrouwen zwaar in de minderheid. Kerstin Perez vertelde in haar presentatie dat ze een mentor heeft ('een oudere witte man') die haar in haar wetenschappelijke carrière steunt. Ze zei hoe belangrijk het voor haar is dat iemand uit de wetenschap haar aanmoedigt op momenten dat ze dat nodig heeft. Waarom niet, zo werd geopperd, medewerkers van kleur met - leidinggevend - talent actief begeleiden, ook in niet-wetenschappelijke trajecten.
Het Interfaculty Forum Inclusive Curriculum is een platform van wetenschappers van de Universiteit Leiden die zich samen met het Expertisebureau Diversiteit en Inclusie richt op het ontwikkelen van een inclusieve leeromgeving. Intervisiebijeenkomsten bieden gelegenheid gedachten en ervaringen uit te wisselen over kennisproductie en leermethoden op het gebied van diversiteit en inclusie. Lezingen en workshops, zoals de workshop van Francio Guadeloupe tijdens het symposium, leveren kennis en inspiratie. Heb je ook vragen over het ontwikkelen van een inclusief curriculum? Neem dan contact op met het Expertisebureau D&I: diversiteit@leidenuniv.nl.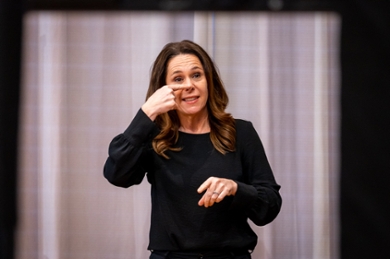 Cultuurverandering
Cultuurverandering is niet makkelijk omdat daarvoor een andere mindset nodig is. Maar toch zijn kleine stapjes gemakkelijk gezet. Zo is onderlinge betrokkenheid een manier om mensen erbij te halen en te houden. W&N-decaan Michiel Kreutzer zei dat het belangrijk is om, zeker in deze coronatijd, vanuit oprechte, persoonlijke belangstelling aan studenten te vragen: hoe gaat het met je? Zeker voor studenten die zich misschien toch al niet 100% thuis voelen op onze 'witte' universiteit, kan dat verschil maken.
Uchegbu zei, met zichzelf als voorbeeld, zich te realiseren dat het lastig is ongewone namen te onthouden en goed uit te spreken. De schaamte die daardoor ontstaat kan ertoe leiden dat mensen het uitspreken van die namen dan maar vermijden. 'Niet doen', zei Uchegbu. 'Blíjf naar de juiste uitspraak vragen – over and over again.' Ze pleitte ook voor key officers, dat zijn personen overal in de universiteit die fungeren als verbreiders van een nieuwe cultuur. Zij dragen eraan bij dat de aandacht levend blijft en gaan het gesprek aan. Dat kan vaak en passant.
Jong beginnen
Francio Guadeloupe, antropoloog aan de Universiteit van Amsterdam, hield zijn workshop over de Creolizing Approach. Daarmee bedoelde hij: concentreren op de relaties en niet op de achtergronden van studenten. Hij gebruikte er de metafoor van het vloeiende water voor, dat tussen, over en onder alle vaste delen - de diverse etniciteiten - vloeit als verbindende factor. Guadelope ontwikkelt met collega's en studenten nu het Waterfeest, dat basisschoolkinderen spelenderwijs bewust maakt van diversiteit, inclusiviteit en duurzaamheid. Het streven is dat het Waterfeest een nieuwe lente-traditie wordt op basisscholen. Het draait om het verhaal van drie kinderen met een verschillende achtergrond: de watersnoodramp in Nederland, arbeidsmigratie rond de Middelbare Zee en de trans-Atlantische slavernij – dat kan allemaal in een imaginaire wereld. De kinderen raken gescheiden van hun families. Maar met hulp van elkaar, een dolfijn en een schildpad, creëren ze een nieuw, inclusief en duurzaam bestaan, op het land maar half onder water.​
Miranda van Eck, hoogleraar Cardiovasculaire en metabole therapieën bij het Leiden Centre for Drug Research vatte op de slotbijeenkomst krachtig samen waar we naar toe moeten: 'We moeten ervan af een witte elite-universiteit te zijn.'
Tekst: Corine Hendriks
Fotografie: Monique Shaw
Mail de redactie