Duizenden nieuwe studenten beginnen aan een EL CID als vanouds
Veel lachende gezichten, een dansende menigte en ook wel wat onwennigheid: na twee 'corona-edities' van de EL CID, is de Leidse introductieweek dit jaar als vanouds. In totaal 3412 eerstejaars studenten van de Universiteit Leiden en de Hogeschool Leiden, begeleid door 486 mentoren, zijn deze week begonnen aan de EL CID.
De introductie, die loopt van 15 tot en met 19 augustus, opende maandag op de Lammermarkt. Uitbundig versierde nummerbordjes wezen de studenten naar hun groepje voor deze EL CID. Ieder groepje bestaat uit studenten die aan dezelfde studie beginnen. Studeren in een vaak onbekende stad, veel nieuwe mensen ontmoeten en in sommige gevallen op kamers gaan: het is een spannende grote stap. Voor de mentoren was het vooral zaak om het ijs te breken.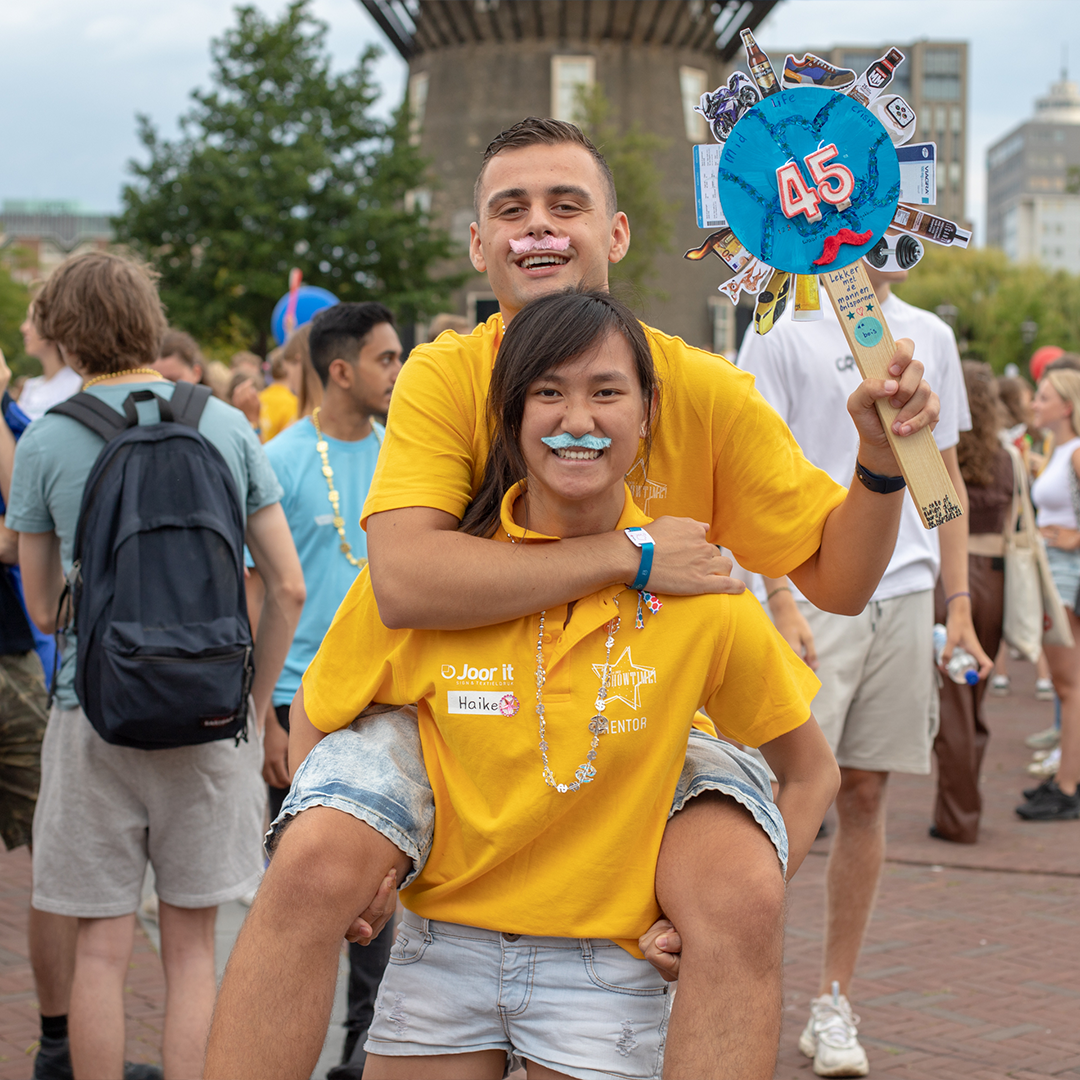 Voor Haike is het de eerste keer als mentor op de EL CID, Jayme was het vorig jaar ook al. Maar door corona was het programma toen nog deels online. 'Het voelt wel als voor het eerst. Vorig jaar waren er nog heel veel restricties. Maar nu is het weer helemaal vrij, dat is wel heel gaaf', vertelt Jayme. Haike heeft meteen al het EL CID-gevoel te pakken. 'Er is nu nog wel wat spanning, want voor veel studenten is het een grote stap. Maar aan het eind van de week is dat helemaal weg en is het vooral heel erg leuk met elkaar.' Ze heeft nog wel een tip: 'Als je zelf open bent, stellen de studenten zich ook sneller open.'
Om de week ook veilig te laten verlopen hebben alle mentoren een speciale consent-training gevolgd. Sociaal onveiligheid of ongewenst gedrag moet daarmee snel aangepakt kunnen worden. 'We hebben geleerd om bepaalde signalen op te pikken en om iemand uit een situatie te halen die niet wenselijk is en tegelijk de sfeer ok te houden', vertelt Haike. Jayme vult aan: 'We werken ook met een codewoord: "Wil je een spa rood?", op die manier vragen we eigenlijk of iemand ok is, of dat ze de situatie niet prettig vinden'.
Studentenwelzijn
Tijdens de introweek staat er weer van alles op het programma, dat volgens de organisatie diverser is dan ooit. Zo is er een kroegentocht, maar kunnen deelnemers op dat moment óók kiezen voor een museumtocht: The night at the museum. Tegelijk met de Dixo Driehoek staat het Knutselkwartier gepland. Keuze zat dus voor iedereen. Een belangrijk thema van deze EL CID dit jaar is studentenwelzijn. De introductieweek moet voor iedereen leuk en ook veilig verlopen.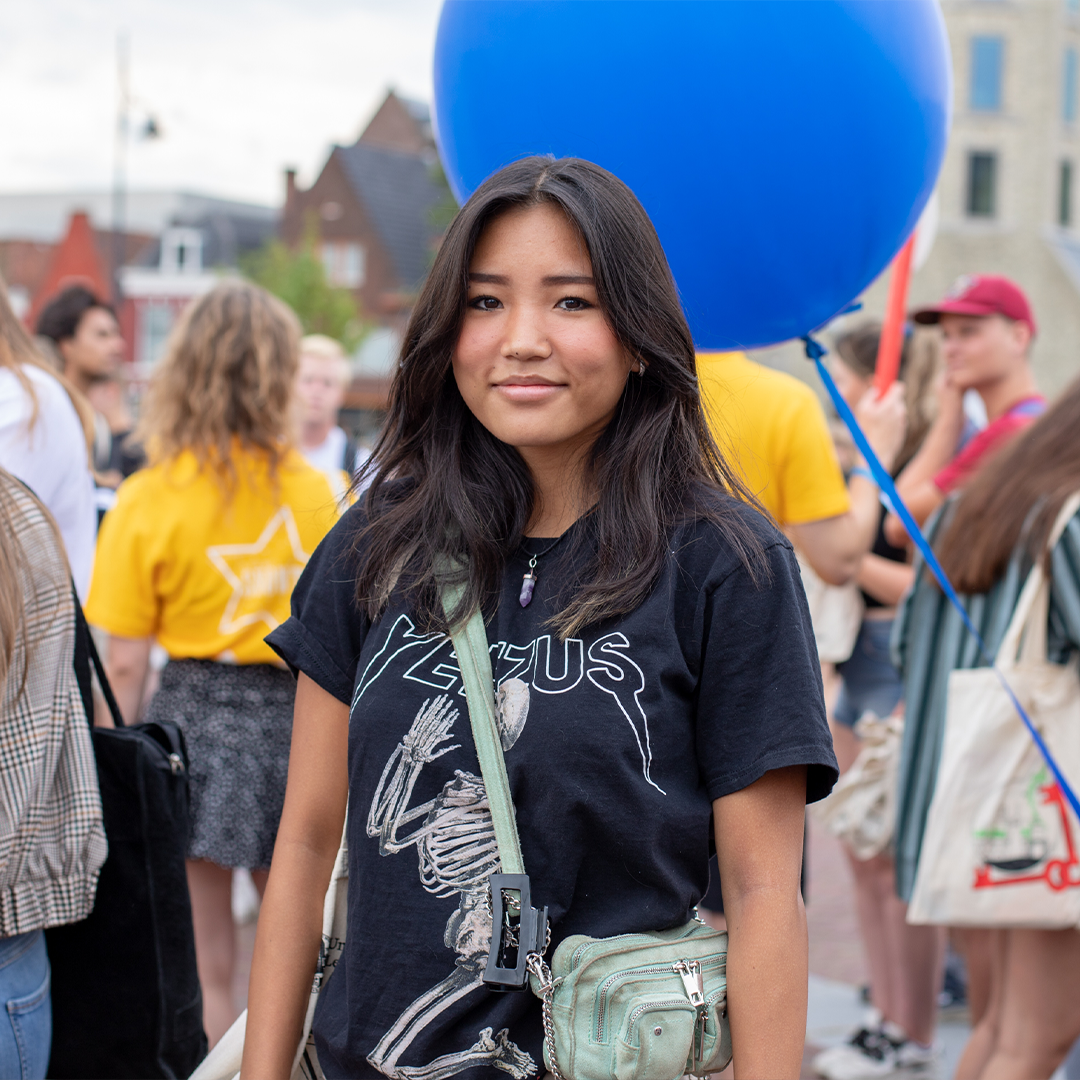 Fenna uit Rotterdam gaat beginnen aan de studie Criminologie. 'Ik wilde eerst eigenlijk Rechten gaan doen, maar dit sprak me meer aan. Het is een mix van rechten en ook nog een beetje psychologie erbij, dat lijkt me heel leuk om te doen.' Het eerste jaar van haar studie blijft ze nog 'lekker thuis wonen', maar wellicht volgt daarna een kamer in Leiden. Ze heeft heel veel zin om nieuwe mensen te leren kennen en Leiden te ontdekken. Het begin van de EL CID is nog wel spannend geeft ze toe. 'Ik ben samen met een vriendin gekomen, dat is nog wel een beetje vertrouwd.'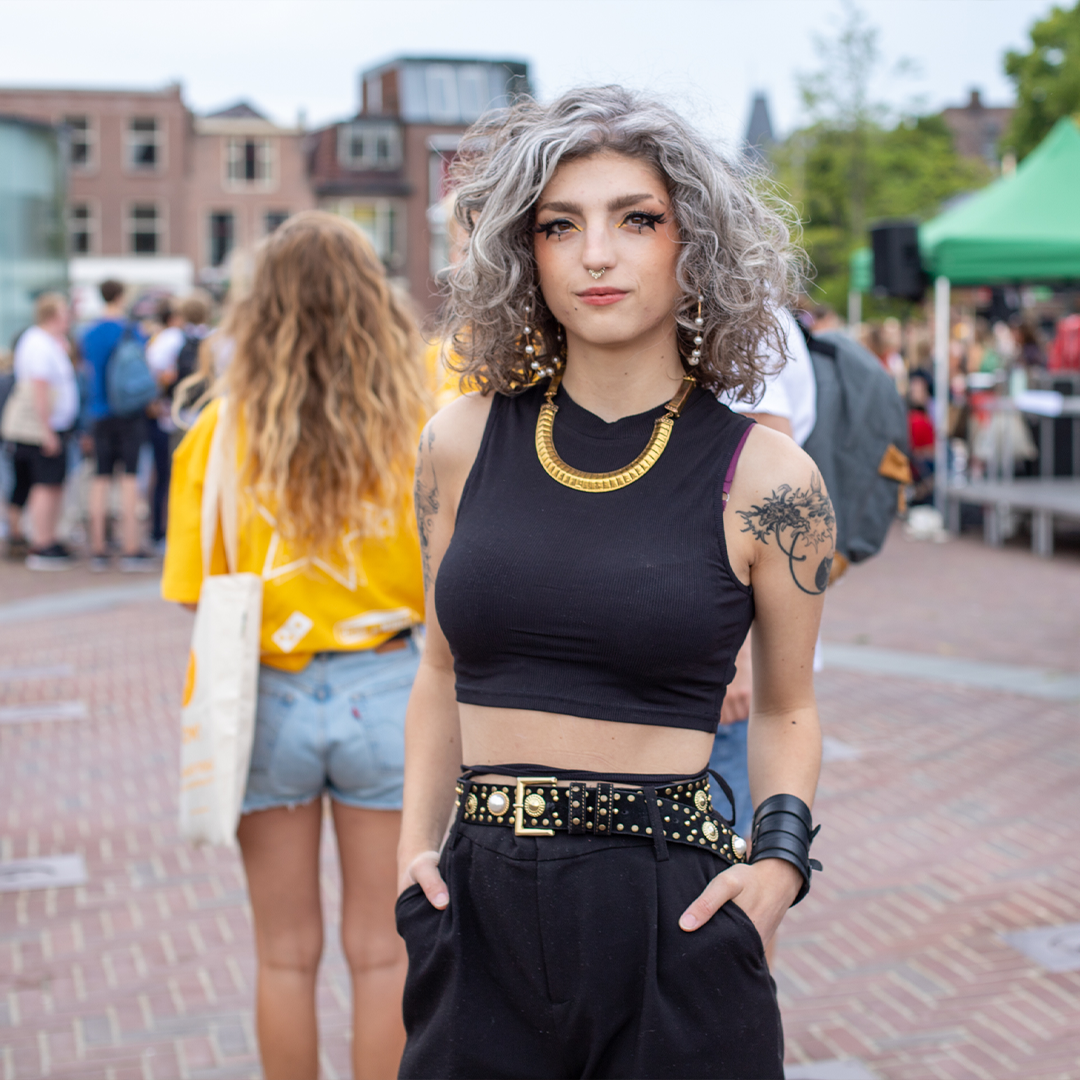 Ximena gaat na een jaar studeren in Middelburg nu in Leiden beginnen aan een studie Culturele antropologie en ontwikkelingssociologie. 'Ik heb heel veel zin in het veldwerk. Je gaat naar bepaalde plekken heen om te observeren en mensen te interviewen. Dat lijkt me heel erg interessant en leuk.' Aan de EL CID doet ze mee om Leiden beter te leren kennen en om alvast mensen van haar studie te ontmoeten. 'Ik laat het allemaal over me heen komen. Ik hou wel van een verrassing.'
Corona lijkt ver weg
Hoewel corona (na de twee vorige edities) ver weg lijkt, heeft de organisatie wel maatregelen getroffen. Bij verschillende events staan zuilen met desinfecterende middelen en bij een eventuele besmetting moet de betreffende deelnemer of mentor thuisblijven. Op die manier moet het aantal coronagevallen tot een minimum beperkt worden.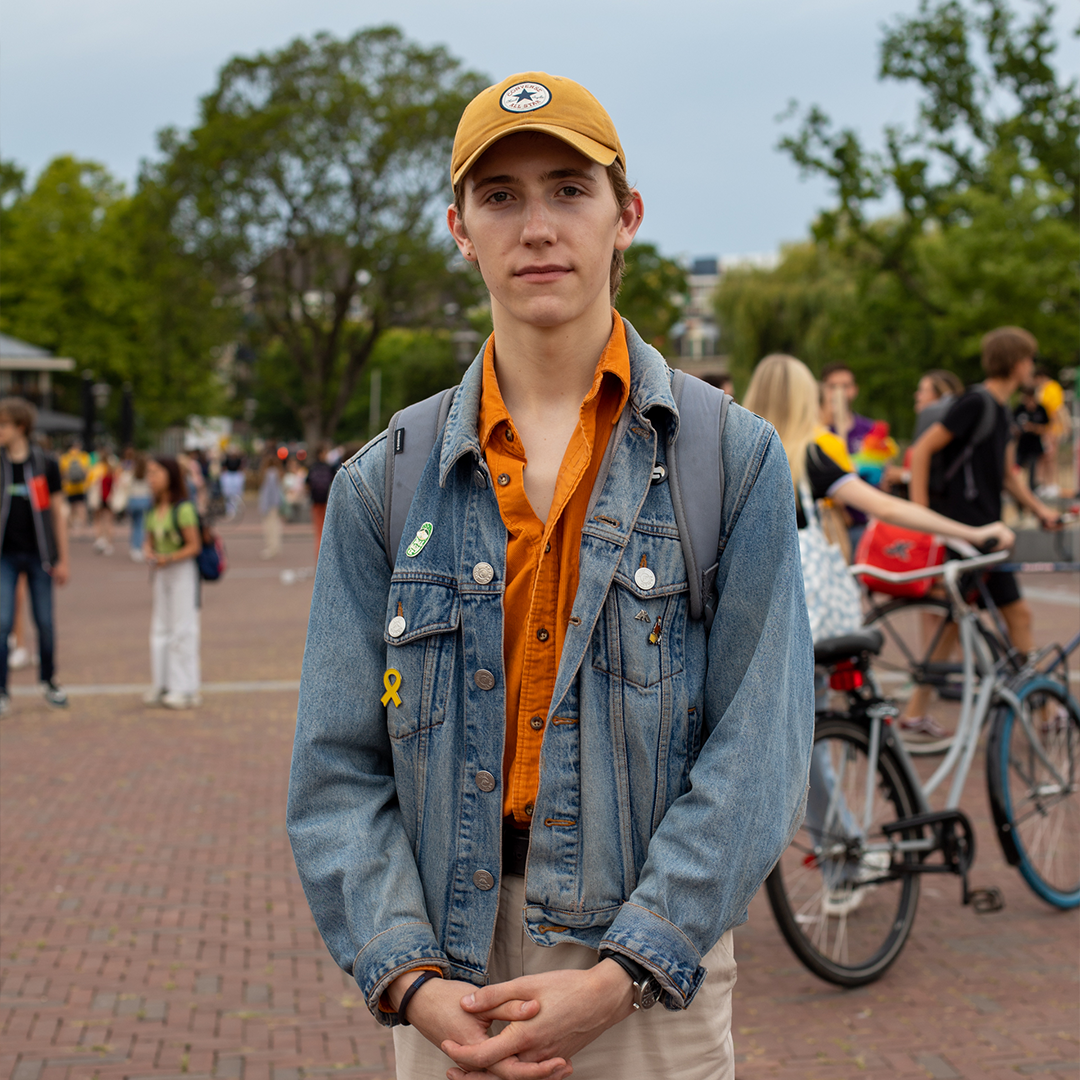 Castor uit Den Haag staat in een kleiner groepje van aankomende Filosofie-studenten. Hij woont nu nog thuis, maar zou een kamer in Leiden ook wel zien zitten. Tijdens zijn studietijd in Leiden hoopt hij mensen met gedeelde interesses te vinden. 'Ik maak veel muziek, want ik speel fagot en zit in een paar orkesten'. De coronacrisis was voor Castor reden om vorig jaar een tussenjaar te nemen. 'Ik wist gewoon niet of het leuk zou zijn en er kwam nog een lockdown, dus ik ben wel blij dat ik vorig jaar niet begonnen ben.' Met zijn EL CID-gevoel zit het wel goed: 'Het is wel spannend, maar ik heb ook zin in de week.'
Met een mooie week in het vooruitzicht lijkt Leiden haar EL CID terug te hebben. Vrijdag wordt de week afgesloten met het Leids Eerstejaars Festival (LEF) en daarna écht met het Eindfeest: Toegift. Aan alle deelnemers een fijne EL CID gewenst en tot snel in de collegebanken.
Tekst: Tim Senden
Foto's: Rob Dorresteijn