Winnaar Onderwijsprijs Ayo Adedokun voelt doceren als roeping
'Docent zijn is niet mijn baan, maar mijn roeping.' Dat zei politicoloog Ayo Adedokun nadat hij bij de opening van het academisch jaar, op 6 september, de LUS-Onderwijsprijs uitgereikt kreeg. Deze prijs gaat naar de beste docent van het jaar.
Adedokun was ontroerd toen hij de prijs kreeg van de voorzitter van het Leids Universitair Studentenplatform. De prijs bestaat uit 25.000 euro, te besteden aan onderwijsvernieuwing, en toetreding tot de Leiden Teachers' Academy. Hij begon in januari 2020 bij het Leiden University College The Hague (LUC) als docent en had niet verwacht nu al een dergelijke prijs te krijgen. Adedokun werd onder meer uitverkoren vanwege zijn originele manier om tijdens de pandemie in contact te blijven met zijn studenten: hij ging met ze wandelen. 'Dat was de beste manier om erachter te komen hoe het met ze ging.' Hij draaide ook jazzmuziek in de pauzes om de studenten innerlijke rust te brengen. En organiseerde coaching sessies waarin studenten werden uitgenodigd na te denken en te filosoferen over hun leven na de studie. Het ging daarbij om onderwerpen als loopbaan verdere mogelijkheden voor zelfontwikkeling.
Onder de indruk van 'Leidse' ethos en cultuur
Twee dagen na de Opening Academisch Jaar (verslag) komt Adedokun bijna woorden te kort om zijn enthousiasme over zijn werkomgeving uit te drukken: 'Ik ben echt onder de indruk van het ethos en de cultuur van de Leidse universiteit. Die waardeert verdienste, prestaties en, het allerbelangrijkste, relaties. We geven hier echt om elkaar. Vanaf dag één voelde ik een sterke geest van kameraadschap.'
Politicoloog Adedokun heeft zich gaandeweg gespecialiseerd in internationale relaties, in het bijzonder op de thema's conflictsituaties, peacebuilding en ontwikkeling, met een regionale focus op Afrika ten zuiden van de Sahara. Hij geeft bij het LUC college aan de studenten van twee richtingen: Governance, Economics and Development en World Politics. Zijn cursussen zijn heel divers, zoals Politiek en ontwikkeling van Afrika, Veiligheid, Analyse van overheidsbeleid en van instellingen voor bestuur en ontwikkeling en Vrede- en conflictstudies.
Wat is kenmerkend voor uw onderwijs?
'Al het onderwijs dat ik geef heeft drie overkoepelende doelen: het eerste doel is kritisch denken, het tweede de beheersing van de inhoud, en het derde de toepassing van de lesstof in een reële context. Voor dat laatste gebruik ik probleemgestuurd leren. Ik ben voorstander van een interdisciplinaire benadering van zowel wetenschap als onderwijs. Ik geloof dat de oplossingen voor wereldwijde uitdagingen zoals de klimaatverandering, de Covid-19 pandemie, armoede en conflicten, niet binnen één traditioneel vakgebied gevonden kunnen worden. Daarom moedig ik de studenten aan om uit meerdere disciplinaire bronnen te putten, om op basis daarvan een standpunt te bepalen. Verder ga ik voor een inclusieve benadering, mijn cursussen zijn "gedekoloniseerd". Op de literatuurlijsten staan net zo goed stemmen uit het zuiden als uit het noorden van de wereld.'
Ayokunu ('Ayo') Adedokun komt uit Nigeria maar mag zich met recht wereldburger noemen: hij woonde onder meer in het Verenigd Koninkrijk, de Verenigde Staten, Noorwegen en Mozambique. Adedokun haalde zijn bachelor, waarvoor hij een Chancellor Scholarship ontving, nin 2007 aan de University of Lagos in Nigeria. Zijn master (M.Phil, richting internationale ontwikkeling) haalde hij in 2012 aan Oxford University als Clarendon Scholar van deze universiteit, om vervolgens in 2016 te promoveren aan de Universiteit Maastricht. Daarna was Adedokun docent aan deze universiteit, de United Nations University (UNU MERIT) in Nederland, en de American University of Nigeria (AUN). Verder adviseerde hij vanuit zijn vakgebied de Wereldbank, de British Council en de Nigeriaanse regering. In zijn onderzoek is Adedokun het meest gepassioneerd over de vraag waarom sommige gemeenschappen en samenlevingen worden gekenmerkt door conflicten en armoede, terwijl andere langdurig vreedzaam en welvarend blijven? Wat kan gedaan worden om duurzame vrede en inclusieve ontwikkeling te bevorderen en was is daarbij de rol van lokale en internationale actoren?
U zei bij de aanvaarding van de LUS Onderwijsprijs dat u docent zijn niet als een baan maar als een roeping beschouwt…
'Doceren geeft je de kans en het voorrecht om een impact te hebben op de maatschappij door de geesten van de volgende generatie vorm te geven. Het vergt passie, geduld, empathie, toewijding, en het vermogen om meer te doen met minder. En daarom is onderwijzen voor mij niet zomaar een beroep; het is een kans om het beste in mijn studenten naar boven te brengen en hen te inspireren en te motiveren om naar grootsheid te streven, in mogelijkheden te geloven en grote dromen te dromen.'
'Mijn onderwijsfilosofie is dat alle studenten in staat zijn om te leren, maar niet allemaal in hetzelfde tempo. Daarom gebruik ik een combinatie van lezingen, tutorials, seminars en probleemgestuurd leren (PBL) om mijn studenten te betrekken. Ik ontwerp mijn onderwijs zodanig dat het tegemoet komt aan alle soorten studenten, van verschillende rassen, etnische groepen en sociaaleconomische achtergronden. Maar ik ben ook flexibel en weet hoe ik mijn onderwijs moet aanpassen als dat nodig is.'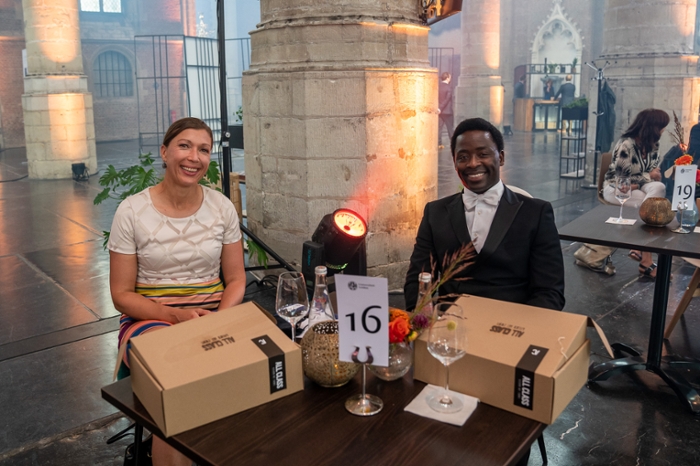 Hoe was het docent te zijn in de lockdown? Wat hebt u geleerd?
'Veel. Bijvoorbeeld om de uitdagingen van online leren aan te pakken, zoals afleiding, schermmoeheid, minder sociale interactie, angst en depressie. Ik ben ervan overtuigd dat menselijke verbondenheid in deze moeilijke tijden belangrijker is dan ooit. Een persoonlijke band creëren betekent tijd nemen voor interactie met elke student, hen leren kennen en weten wat hun hobby's en interesses zijn. Ik begon elk college met een persoonlijk praatje vroeg studenten naar hun welzijn. Ook heb ik hen steeds actief betrokken door een tutorialsysteem te gebruiken. Ik liet ze een presentatie geven, gevolgd door een debat. Ook organiseerde ik debat- en groepsdiscussies in pauzeruimtes in Microsoft Teams.'
Weet u al hoe u uw 25.000 euro voor onderwijsvernieuwing wilt besteden?
'Ik heb een aantal ideeën over innovatieve onderwijs- en leerstrategieën, ik kijk er zeer naar uit om daarover te brainstormen met andere collega's van de Leiden Teachers' Academy.'
Tekst: Corine Hendriks
Beeld: Monique Shaw