Dit was 2021! Een overzicht van Geesteswetenschappen in het nieuws
Online, hybride, op de campus... Het was een onvoorspelbaar jaar, ook voor de Faculteit Geesteswetenschappen. Gelukkig was er naast coronanieuws ook ruimte voor andere verhalen. Een terugblik op 2021 met onze meest gelezen nieuwsartikelen per maand.
Januari
Als taalwetenschappers op boevenjacht gaan
Rector magnificus Carel Stolker neemt afscheid. Als er één thema als een rode draad door zijn carrière loopt, dan is het de verbinding tussen universiteit en maatschappij. In deze serie afscheidsgesprekken gaat Stolker nog eenmaal in gesprek met mensen van binnen en buiten de universiteit. In deze eerste aflevering: taalwetenschappers Willemijn Heeren en Tina Cambier over samenwerking in de toegepaste wetenschap. > Lees verder.
Ook veel gelezen in januari:
Februari
Hoe kunnen wetenschappers worden gesteund bij bedreigingen op social media?
'Wetenschappers die op social media hun kennis delen met de buitenwereld, worden vaak beledigd of zelfs bedreigd. Vooral vrouwelijke wetenschappers en wetenschappers van kleur lijken regelmatig het slachtoffer te zijn van seksistische en racistische reacties.' Dit stelde Ineke Sluiter, hoogleraar Griekse taal en literatuur en president van de KNAW, tijdens haar diesoratie op 8 februari. > Lees verder
Ook veel gelezen in februari:
Maart
Computertechnieken onthullen geheimen van zeventiende-eeuwse brief
Het is voor het eerst gelukt om een brief uit de zeventiende eeuw te lezen zónder het zegel te verbreken en zo het waardevolle fysieke bewijsmateriaal te behouden. Met geavanceerde technologie wist een internationaal onderzoeksteam de brief digitaal te openen. Nadine Akkerman, universitair hoofddocent vroegmoderne Engelse letterkunde, is co-auteur van het artikel in Nature Communications. > Lees verder
Ook veel gelezen in maart:
April
Casper de Jonge: 'Door de canon te verbreden houden we de oudheid modern'
Per 1 mei is Casper de Jonge benoemd tot hoogleraar Griekse Taal- en Letterkunde. 'De Griekse literatuur komt niet alleen uit Athene: ook auteurs uit Egypte, Syrië en Klein-Azië schreven in het Grieks.' > Lees verder
Ook veel gelezen in april: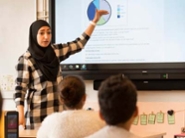 Mei
'Islamitische basisscholen zijn belangrijk geweest voor emancipatie van moslims'
De oprichting van islamitische basisscholen heeft een belangrijke bijdrage geleverd aan de emancipatie en integratie van moslims in Nederland. Dat concludeert promovendus Bahaeddin Budak in zijn onderzoek naar 25 jaar (1988-2013) islamitisch basisonderwijs in Nederland. > Lees verder
Ook veel gelezen in mei:
Juni
Antjie Krog dit najaar gastschrijver aan de Universiteit Leiden
De Zuid-Afrikaanse dichter Antjie Krog is in het najaar van 2021 de gastschrijver aan de Universiteit Leiden. Krog werd beroemd met haar dichtbundels en boeken, die vaak zijn geïnspireerd op de Zuid-Afrikaanse geschiedenis. In haar rol als gastschrijver zal zij onder meer de jaarlijkse Albert Verweylezing houden en colleges geven. > Lees meer
Ook veel gelezen in juni:
Juli
Alumna Elisa Loncon Antileo gekozen tot voorzitter grondwetgevende conventie in Chili
In Chili wordt momenteel gewerkt aan een nieuwe grondwet. Alumna Elisa Loncon Antileo is gekozen tot voorzitter van de grondwetgevende conventie. > Lees verder
Ook veel gelezen in juli:
Augustus
Digitalisering: negeren is geen optie meer
Jelena Prokic, universitair docent en onderzoeker bij het Centre for Digital Humanities, gaat studenten voorbereiden op de uitdagingen en mogelijkheden van de digitale wereld. In september starten zes cursussen over onder meer statistiek en het digitaal doorzoeken van teksten. 'Ik vind dat iedereen zelfverzekerd, creatief en kritisch zou moeten omgaan met digitale technologie.' > Lees verder
Ook veel gelezen in augustus:
September
Koloniaal zonder het te beseffen
De negentiende-eeuwse schrijver Nicolaas Beets en zijn zoon Dirk waren door en door koloniaal. Vader Nicolaas zelfs zonder ooit in Indië of een andere kolonie te zijn geweest. Maar ze realiseerden het zich niet. De nieuwe Scaliger-hoogleraar Rick Honings laat zien dat archieven van schrijvers goudmijnen zijn voor wie op zoek is naar denkbeelden over het Nederlandse koloniale verleden. > Lees verder
Ook veel gelezen in september:
Oktober
Waarom een rechtszaak over roofkunst vaak stukloopt (en hoe het anders kan)
Er zijn nauwelijks heldere regels voor de teruggave van gestolen kunst. Daardoor worden veel zaken niet in de rechtbank beslist, maar in de politieke arena. Evelien Campfens doet in haar promotieonderzoek voorstellen hoe dat anders kan. > Lees verder
Ook veel gelezen in oktober:
November
Studenten Ruşen en Rana strijden voor diversiteit in hoger onderwijs
Twee Leidse studenten maken kans om de ECHO Award Wetenschappelijk Onderwijs te winnen. Deniz Rana Kuseyri en Ruşen Koç zijn twee van de zes finalisten voor deze landelijke prijs die ieder jaar uitgereikt wordt aan studenten die diversiteit en inclusie bevorderen binnen hun eigen vakgebied. > Lees verder
Ook veel gelezen in november:
December
David Van Reybrouck roept op tot burgerlijke ongehoorzaamheid in 50e Huizingalezing
Nu een klimaatcatastrofe dreigt die zijn weerga niet kent, is het tijd dat burgers in actie komen, zelfs als dat in het uiterste geval leidt tot burgerlijke ongehoorzaamheid, betoogde schrijver David Van Reybrouck zondagmorgen in de vijftigste Huizingalezing. 'Tegen het eind van deze lezing zullen er naar schatting zes à zeven soorten zijn uitgestorven.' > Lees verder
Ook veel gelezen in december:
De facultaire redacteuren publiceerden dit jaar 359 nieuwsitems over de Faculteit Geesteswetenschappen. De facultaire redactie wil iedereen bedanken voor hun harde werk en inzet. Fijne feestdagen en op een jaar met nóg meer mooie verhalen!