Nikki Ikani's nieuwe boek over crises en beleidsverandering in Europees buitenlandbeleid
Manchester University Press heeft onlangs het boek 'Crisis and change in European Union foreign policy' gepubliceerd, geschreven door Nikki Ikani, Universitair Docent Intelligence & Security bij het Institute of Security and Global Affairs (ISGA).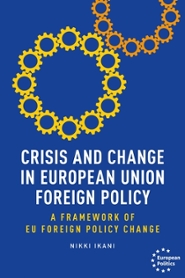 Het boek biedt studenten en onderzoekers een nieuw analytisch kader waarmee in kaart kan worden gebracht hoe de EU haar buitenlandbeleid wijzigt na een crisis. Het boek geeft daarmee antwoord op de vraag hoe crises beleidsveranderingen teweeg kunnen brengen in het Europese buitenlandbeleid, maar ook hoe we deze veranderingen kunnen conceptualiseren. Ikani breidt hiervoor de veelgebruikte typologie van beleidsverandering van Peter Hall verder uit.
Beleidsveranderingen
Door bestaande theorieën over beleidsveranderingen aan te passen en in één analytisch raamwerk te gieten dat van toepassing is op de Europese context, biedt het boek studenten en onderzoekers een gereedschapskist waarmee ze zulke wijzigingen zowel kunnen duiden als meten.
Het boek voorziet in een diepgaande analyse van vijf recente crises en de beleidswijzigingen die hierop volgden (de Arabische lente, de crisis in Oekraïne, de langdurige crisis in Europese defensie en veiligheid, de disinformatie crisis en de migratiecrisis). Ikani betoogt op basis van deze casussen dat twee categorieën beleidsverandering een frequente en belangrijke uitkomst vormen van het besluitvormingsproces na crisis: symbolische beleidsveranderingen en constructieve, doch ambigue beleidsveranderingen. De hernieuwde typologie van beleidsveranderingen in het boek is van toegevoegde waarde voor degenen die beleidsveranderingen bestuderen, in de Europese context maar ook in andere beleidsarenas.
Dr. Nikki Ikani is universitair docent Intelligence & Security. Haar onderzoek richt zich op het snijvlak tussen de internationale betrekkingen, de bestuurskunde en inlichtingen, met name omtrent het buitenlandbeleid van de Europese Unie. Haar overkoepelende onderzoeksvraag is hoe kennis en inlichtingen worden geproduceerd en ontvangen door beleidsmakers in Europese politieke arena's, met name ten tijde van crisis.