Other associations
As well as study associations, Leiden University also has a number of other associations through which you can develop your skills and gain experience that will come in useful in your later professional life.
Leiden Debating Union
The Leiden Debating Union is an English-speaking international student association. Members meet twice a week to debate, mostly in the British parliamentary style. LDU has an excellent reputation and many members remain with the association even after graduation. This means that LDU benefits from a great network of knowledge and experience.
LSBo
The Leidse Studenten Belangenorganisatie (LSBo), which translates as the organisation for the interests of Leiden students, represents students of Leiden University, Leiden University of Applied Sciences (Hogeschool Leiden) and Webster University. It focuses on key issues through its rental team, cycle plan, student insurances and student political activities. LSBo is always looking for (part-time) board members, which means you too could represent the interests of your fellow students in matter such as accommodation, insurances, training and politics.
Leiden MUN
The goal of the Leiden Model United Nations Foundation (Leiden MUN) is to guide students towards becoming successful representatives at MUN conferences, during which they will be directly involved in the world of international relations and diplomacy. The foundation offers a platform and networking opportunities for ambitious and talented students.
Leiden Science China (LSC) community
The LSC community is founded by a group of enthusiastic Chinese science students and PhD's with support of the faculty. The main goals are to encourage communication and to strengthen the social and academic relationship between Chinese and other (Dutch) science students and PhD's.
Therefore, we are organizing several activities throughout the year that are open to all students, PhD's and employees of the Faculty of Science. During these activities, we will network and learn from each other, but of course also have great fun together!
亲爱的硕士和博士同学们,欢迎你们来到莱顿大学科学院!LSC是一个旨在促进中荷学生交流的团体,在这里我们不仅能够更加深入了解荷兰文化,结识新朋友,还能够开阔学术视野,增进学术和职业技能的交流。我们期待你的加入!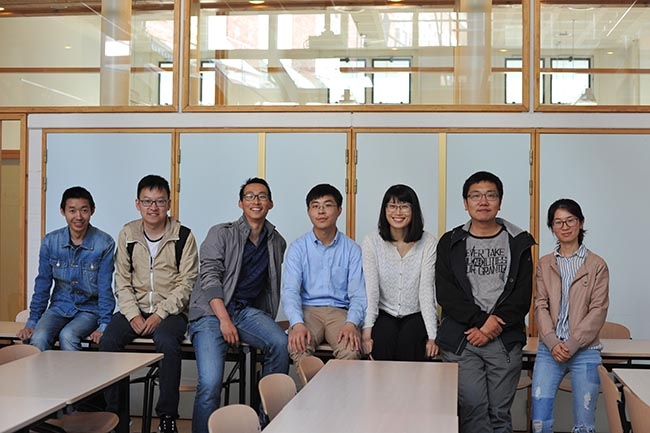 The LSC community board
On the photo from left to right: Gang Chen, Donggang, Wang, Qiang Liu, Feng Jiang, Lin Jiang, Xue Liu, Qing Miao. Another two board members are not shown in the picture: Xuequan Zhou, Zhichao Liu.
Proud winner of the Van Bergen Award 2015
The LSC community would gratefully thank the jury of the Van Bergen Fund for this honorable award. The Van Bergen Fund aims to promote contacts between Dutch and international students in order to achieve a better understanding of each other's cultures. At the Symposium for Diversity and Inclusion the two winners of the Van Bergen Award 2015 were announced. One of those winners is the LSC Community with the idea for an International Friendship Cup, a sporting event open to all students of Leiden University. You can read the news article here.
Upcoming events
Would you like to join our activities and stay up-to-date? Make sure to like our FB page to receive regularly up-dates and news!
You can also find the photos of the LSC BBQ & Mid-Autumn Festival as well as our Chinese NY Celebration on our LSC Facebook page.
Contact
Do you have any questions or ideas for upcoming activities?
Please do not hesitate to contact the LSC community via: lsc@science.leidenuniv.nl. Of course, you are also welcome to contact one of the LSC representatives from your department directly.
Astronomy students
Astronomy alumni
Astronomy professionals