Study programme
When deciding what to study you undoubtedly read a lot of information about your study programme. Leiden University employs various systems to provide information about programmes and courses and to facilitate communication between lecturers and students.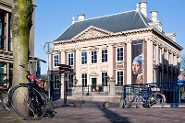 Programme information
Our MA Arts and Culture specialisation in Art and Architecture before 1800 is your opportunity to gain in-depth knowledge in the art and architecture that evolved during the years prior to 1800.

Your focus will be on the history of art and architecture from the perspective of the period's artists and architects, but also on the role of patrons and the public and how works of art and buildings evolved in response to changing usages, social and political changes, and the various responses of the public.
Check out the Prospectus for more information